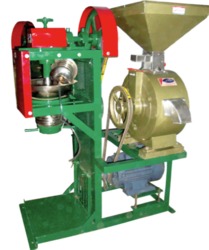 Idiyappam machine
Product Code : 026
Product Description
Idiyappam Making Machine
Technical details;
1, All are Stainless steel, Capacity;- 900 pcs / hr.
2. Auto coiling & auto Rotating. Power; 1 hp, 25w, 10w. 1 phase
3, Automated by mechanical system. Floor space;- L500 x W380 x H700 mm
4, Less labour, Multi option, Easy reassemble to cleaning.

Functions;- 1) This machine has 2 kg capacity hopper for dough feeding. 2) 4 no's of spindle caring with nylon filling plates.3)Below the delivery positioning the dough extrude to coiling like Idiyappam. 4) Now go for desired optional thickness & coil & help with V.F Drive .. 5) Every 4 seconds get 1 pieces of Idiyappam, every minute to get,
So per/ hr-15x60= 900.